Great Plains 706 No-Till Drill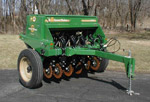 Rent for only $12.00 per acre.  Meter on equipment will determine acres for invoicing.   
A $60.00 deposit (subtracted from total when equipment returned) will be collected.  Minimum charge is $60 or 5 acres.  
At time of pick up you will need to:
complete and sign rental agreement,
pay deposit with cash or check,
and provide proof of insurance for the vehicle towing the drill on the road. 
Transport Requirements: Requires 3/4-ton pickup truck with heavy-duty hitch and a 7/8-inch or 15/16-inch hitchpin for transport.
Operation Requirements: minimum 55-horsepower tractor with 2-way hydraulic system for field operations.
Use - Warm season grasses such as switch, bluestem and gamma grasses. Cool season grasses for hay such as clover, timothy, orchard grasses and alfalfa. Small grains such as soybeans, wheat, and oats.
Width - 7 feet
Total Width - 9 feet 10 inches
Row Spacing - 7.5 inches
Number of Openers - 10
Planting Depth Range - 0 to 3.5 inches
Empty Weight - 3,900 lbs.
Length - 13 feet 10 inches
Height - 7.0 feet
Grain Box Capacity - bushel
Grass Seed Box Capacity - 2.5 bushel
Operation Requirements: Minimum 55-horsepower tractor with hydraulic system for field operations.
NOTES: Warm season grasses are the priority for renting this drill. This drill is not for planting corn.