John Deere 1590 No-Till Drill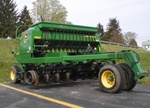 Rent for only $12.00 per acre.  Meter on equipment will determine acres for invoicing.   
A $60.00 deposit (subtracted from total when equipment returned) will be collected.  Minimum charge is $60 or 5 acres.  
At time of pick up you will need to:
complete and sign rental agreement,
pay deposit with cash or check,
and provide proof of insurance for the vehicle towing the drill on the road. 
Transport Requirements: Requires 3/4-ton pickup truck with heavy-duty hitch and a 7/8-inch or 15/16-inch hitchpin for transport.
Operation Requirements: minimum 85-horsepower tractor with 2-way hydraulic system for field operations.
Planting Use - Soybeans, food plots, etc.
Planting Width - 10 feet
Total Width - 10.5 feet
Row Spacing - 7.5 inches
Planting Depth Range - 0.5 to 3.5 inches in 0.25 inch increments
Empty Weight - 6,900 lbs.
Loaded Weight - Approximately 9,000 lbs.
Length - 21 feet
Height - 7 feet
Grain Box Capacity - 35 bushel
Grass Seed Box Capacity - 3 bushel
NOTE: Drill is not for planting corn or warm season grasses