Straw Mulcher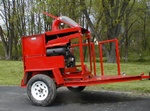 Requires a 1- 7/8-inch OR 2-inch ball hitch for transport.
6-inch X 2-ft. discharge hose on rotating spout (25-ft hose available).
Bales must be broken and fed into chamber in flakes.
Baler twine must NOT be permitted to enter the machine.
Operation works best with a crew of 3 or 4.