Through this amazing community-based conservation effort, a river system that had all but been abandoned, has seen a beautiful rebirth of aquatic and bird life. The River Round Up is coordinated by the Licking County Soil & Water Conservation District in partnership with many local agencies and organizations.  
Learn more about the history of the annual cleanup here.    
Follow the Licking County River Round Up on Facebook!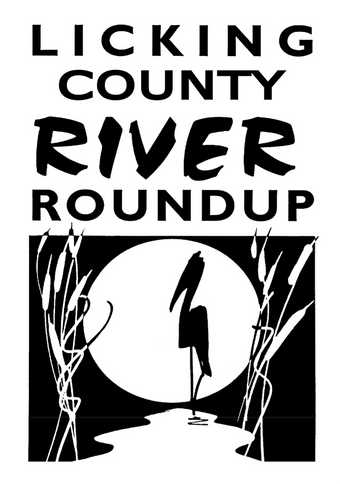 Licking County River Round Up is an annual, county-wide, waterway cleanup event in the Licking River Watershed. Every year it involves hundreds of volunteers that remove thousands of pounds of trash, metals, and recyclables from the Licking River and tributaries. River Round Up is co-hosted by numerous local government agencies and community organizations.  
Posters should reflect water pollution awareness and encourage volunteer participation in the River Round Up.  
The Poster Contest is open to all school-aged youth (public, private, and home school; K–12) in Licking County.  
WINNERS AND PRIZES
Posters will be judged in three age categories: Elementary (K-5), Middle School (6-8), and High School (9-12).  One winner will be chosen from each age category.  Of the three winning posters, one will be chosen as the "Grand Prize Winner" and two will be "Honorable Mention" winners. Prizes will be awarded to students and their respective schools.
Grand Prize (one award): $100 to student artist, and $500 to the student's school for advancing science and art programming.  This artwork will also be the primary electronic marketing image for the 2021 River Round Up event. 
Honorable Mention (two awards): $50 to each student artist, and $250 to each student's school for advancing science and art programming.
Winning posters will also be displayed at River Round Up Event sites on September 11, 2021.
Contest Rules
The poster contest is open to any K–12 student who resides or attends school in Licking County.  
Posters are recommended to be 8.5 x 11 inches and be flat artwork only. 
All entries must be submitted by Friday, April 16, 2021. Only one entry per student. Winners will be announced on Earth Day, Thursday, April 22, 2021.
All entries become the property of the River Round Up committee and will not be returned to artist.
Only original artwork with positive themes will be accepted. Winning artwork may be modified to suit marketing purposes.  
Should you require assistance with scanning and supplies or any aspect of the contest please contact Licking Soil and Water Conservation District for more information at 740-670-5330 or RiverRoundUp@LickingSWCD.com.
River Round Up Poster Contest Submission