Rain Barrel Demonstration at Wilson's Garden Center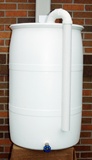 Join Licking County Soil & Water for a Rain Barrel demonstration. Learn the benefits of using a rain barrel, how to construct a barrel, and why stormwater control is important. Free to attend. RSVP below.
Please note: This is not a DIY workshop. Rain barrels available at LCSWCD for $30 unplumbed, or $65 plumbed.