Cover Crop Cost Share Deadline Extended
June 19, 2017
NOTE:  The Cover crop Cost Share application deadline has been extended to Friday, June 23, 2017.
For Immediate Release
May 15, 2017
Contact: Denise Natoli Brooks, 740-670-5330, denisebrooks@lickingswcd.com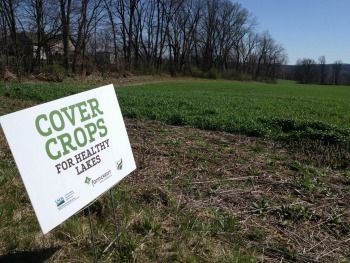 Cover Crop Cost Share & Aerial Seeding Available
Newark, OH (May 15, 2017) - Licking Soil & Water and the Muskingum Watershed Conservancy District (MWCD) are offering a cost share program for landowners to seed cover crops.
Different cover crop species and mixes are available to address specific needs such as controlling erosion, recycling nutrients, fixing nitrogen, reducing compaction, managing soil moisture and producing forage.
Long-term use of cover crops can increase crop yields and reduce fertilizer inputs.
The deadline to apply for cost share has been extended to Friday, June 23, 2017.  Applications will be ranked using MWCD criteria. Qualifying row crop producers will be reimbursed for the cost of cover crop seed.
Aerial seeding is also available. Licking Soil & Water will buy bulk cover crop seed and pass the savings on to producers. This program may be used in conjunction with or independent of the cost share program.
Click here for a Cover Crop Program Flier.
Click here for a MWCD Cover Crop Program Application (PDF) or (Word Doc).
Landowners may also apply in-person at the Licking Soil & Water office, 771 E. Main Street, Suite 100, Newark, Ohio 43055.
Licking County Soil & Water Conservation District promotes conservation of natural resources through local leadership, education and technical assistance.
 ###
For more information or to schedule an interview, contact Denise Natoli Brooks, Licking County Soil & Water Conservation District, 740-670-5330, denisebrooks@lickingswcd.com