Milkweeds for Monarchs
August 31, 2017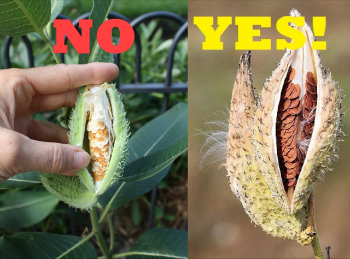 Monarch butterfly populations and the habitat they need are in decline across North America, Mexico and Canada. Ohio is a priority state for monarch migration and fourth-generation monarchs. Fourth-generation monarchs are the individuals that will travel back to Mexico, spend the winter there, and then start their amazing life cycle all over again in the spring, ending back up in Ohio the next summer.
In May 2015, the National Strategy to Promote the Health of Honey Bees and other Pollinators (The Pollinator Health Task Force) tasked all states to work through federal, state, public and private actions in order to restore or create pollinator habitat with the goal of 7 million acres over the next five years across North America.
The Ohio Pollinator Habitat Initiative started in 2015 as a 7 county pilot project. Last year hundreds of Ohioans worked together to collect approximately 200 pounds of common milkweed seeds, totaling over 19 million seeds.
Milkweed is the only host plant for the monarch butterfly for egg laying and caterpillar rearing. It also serves as a food source for monarchs as well as many other pollinator species. The disappearance of milkweed across the U.S. has contributed to the 80% decline of the eastern monarch butterfly population over the last 20 years.
We are working hard to reverse this decline and you can help by following these simple tips:
Before collecting common milkweed seed pods, become familiar with the common milkweed to avoid harvesting seed pods from similar plants such as hemp dogbane and swamp milkweed.
Collect seed pods when they are dry, grey, or brown. Seed pods harvested too early will not have mature seeds.
If the seed pod's center seam pops open with gentle pressure, the seed pod is ready for collection.
Store the seed pods in paper bags; NOT plastic bags since they collect unwanted moisture.
Put the collection date and county name on the paper bag.
Keep the seed pods in a cool, dry area until you can deliver them to the nearest collection site.
Bring collected seed pods to Licking Soil & Water, 771 East Main Street, Suite 100, Newark, OH 43055. Other collection sites are listed at http://www.agri.ohio.gov/divs/SWC/searchlocalSWCD.aspx.
Milkweed seed pod collections start September 1st and goes until October 30th. Licking Soil & Water will accept pods until November 1st. If you have questions regarding milkweed seed pod collection, please contact us at 740-670-5330 or information@lickingswcd.com.