Welcome Kennedy Gardner, Our New Outreach & Education Liaison through AmeriCorps
August 29, 2017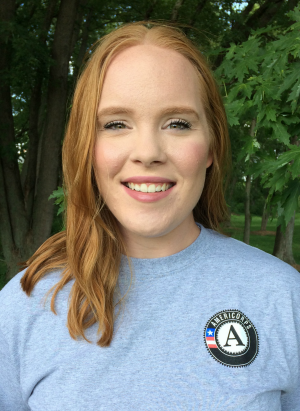 Kennedy Gardner recently graduated from The Ohio State University with a B.S. in Environment and Natural Resources. She studied environmental science at OSU with a specialization in ecosystem restoration and a minor in engineering sciences.
Kennedy has dedicated a year to serve at the Licking Soil & Water with Ohio Stream Restore Corps, which is an AmeriCorps State program sponsored by Rural Action Inc. and overseen by ServeOhio.
AmeriCorps is a national service program, where members provide their skills and knowledge to benefit the local community and the country through a year of service. In particular, Kennedy will utilize the Ohio Stream Restore Corps focus on environmental stewardship by promoting environmental restoration and environmental education in the Licking County area. Kennedy's potential projects include monitoring streams and improving water quality, recruiting volunteers for events, and assisting with environmental education programs.
Kennedy has a passion for solving environmental problems, in particular water quality issues, habitat restoration and natural resource management. She enjoys spending time outside hiking, biking, and playing with her two dogs, Kora and Zoey. If she can't get outside then you can find her reading or binge watching shows on Netflix.
Kennedy is excited about starting her year of service with Licking Soil & Water and she is most excited about learning and gaining new skills to further her career in the environmental profession. She is dedicated to giving back to the community and is ready to start #gettingthingsdone for the Ohio Stream Restore Corps and AmeriCorps in Licking County!
Kennedy's favorite quote: "UNLESS someone like you cares a whole awful lot, nothing is going to get better. It's not". –Dr. Seuss, The Lorax