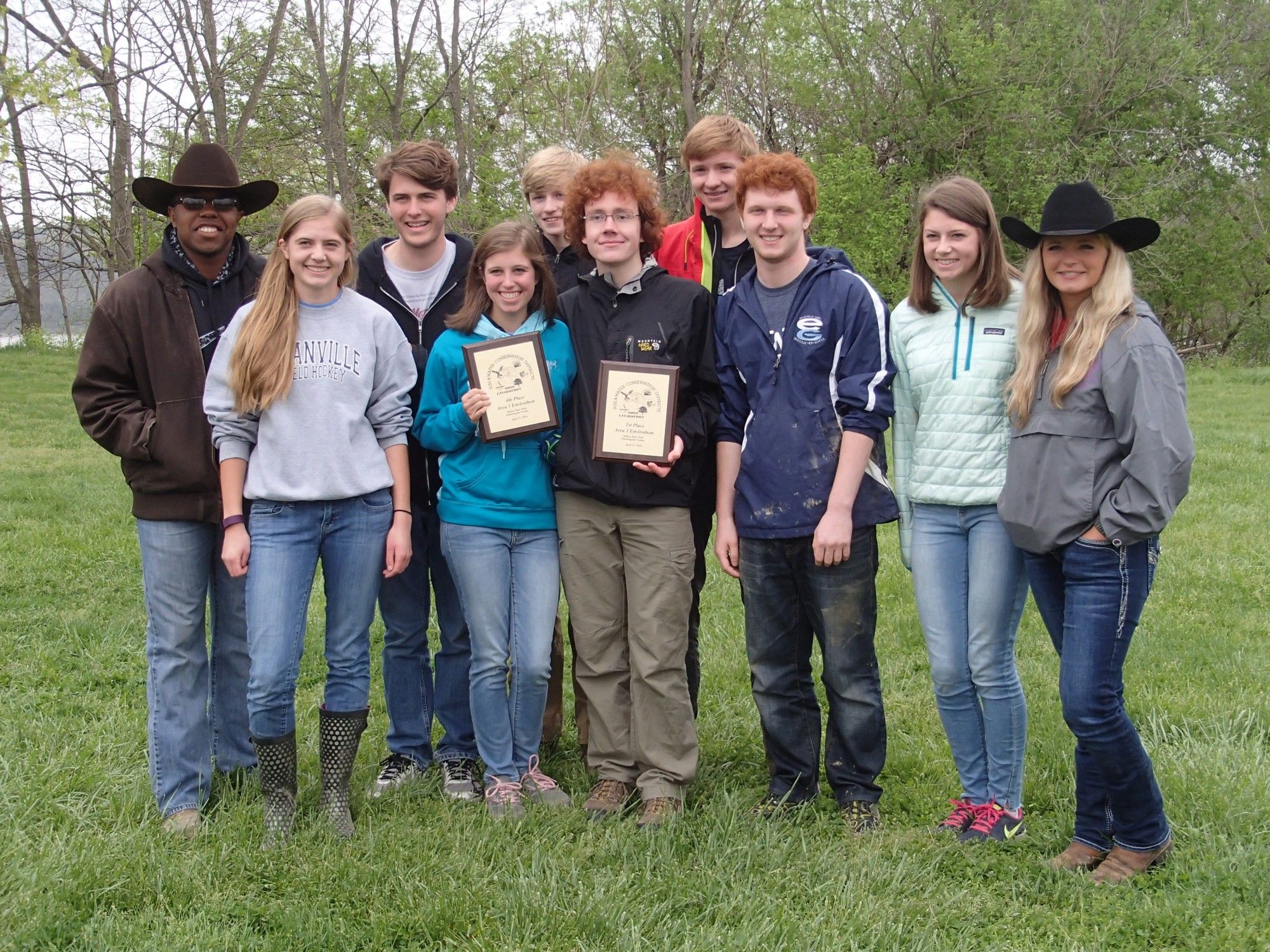 For Immediate Release
Contact: Denise Natoli Brooks, 740-670-5330 or
Jim Reding, 740-587-8105
Granville Teams Advance to State Envirothon
Newark, Ohio - May 3, 2016 --The Granville High School Chickadees Team placed first and Granville Blue Aces Team placed fourth in the Area 3 Envirothon competition held Wednesday, April 27 at Dillon State Park in Muskingum County.
Advised by science teacher Jim Reding, the 5-member Granville teams competed against nearly 50 other teams from sixteen southeastern Ohio counties. The purpose of the annual outdoor competition is to increase high school students' awareness and interest in the environment, natural resources and conservation.
Photo: (L to R) Jonathan Hubert, Mackenzie Ebel, Scott Monnin, Emilee Brown, Nathaniel Carlson, Daniel Gibson, Chris Carlson, Sage Kaplan-Goland, Ryan Reding, Hannah Cecrle
The Granville Chickadees includes Scott Monnin, Nathaniel Carlson, Daniel Gibson, Chris Carlson and Sage Kaplan-Goland. The team scored 101 points out of a possible 120.
The Granville Blue Aces Teams includes Jonathan Hubert, Mackenzie Ebel, Emilee Brown, Ryan Reding, Hannah Cecrle. The team scored 88 points.
Students study either Ecology or Environmental Science at Granville. Both classes cover information addressed on the test. They research issues independently, and meet regularly to review material on the tests.
The Envirothon tests students' knowledge of soils, forestry, wildlife, aquatic ecology and current environmental issues. The 2016 issue is Invasive Species: A Challenge to the Environment, Economy and Society.
Both Granville Teams will advance to the state competition, Ohio Envirothon, June 13-14, 2016 at Bowling Green State University. Learn more about Ohio Envirothon here: http://ofswcd.org/?page_id=240. Ohio has one of the biggest and best Envirothon programs in North America.
The winning Ohio team is eligible to participate in the North American Envirothon, July 24-29, at Trent University, Peterborough, Ontario, Canada. More information about the national Envirothon is available here: http://www.envirothon.org/.
For more information on the Licking County high school and middle school Envirothon program, contact Denise Natoli Brooks at Licking County Soil & Water Conservation District at 740-670-5330 or denisebrooks@lickingswcd.com.
For more information about the Granville Teams, contact Jim Reding, Science Teacher, Granville High School, 740-587-8105, jreding@granvilleschools.org