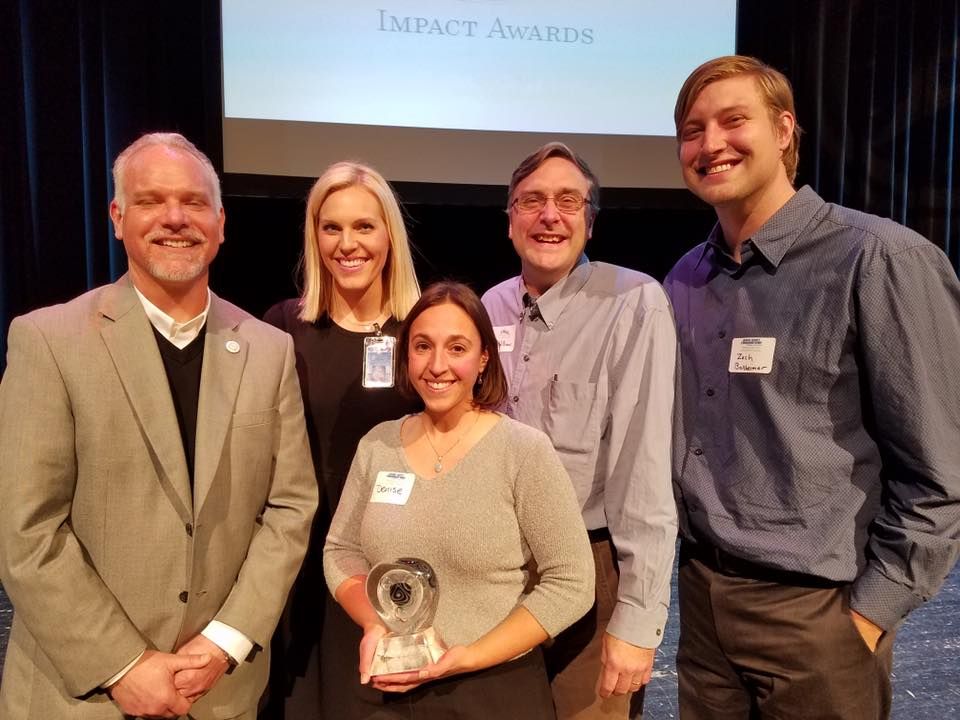 For Immediate Release
Contact: Denise Natoli Brooks, 740-670-5330, denisebrooks@lickingswcd.com
River Round Up Receives IMPACT Award
Explore Licking County staff and RRU Committee MembersNewark, Ohio, December 12, 2016 --"For as many as 10,000 years, explorers have been following the current of the Licking River from the shallow flats of Newark to the massive rock gorges of the Licking Valley and beyond," said Suzanne Bressoud of Explore Licking County who presented the 2016 Collaboration of the Year IMPACT Award to the Licking County River Round Up.
She continued, "It's a beautiful, ancient piece of who we are, and visitors and residents alike find the calm peace of its waters one of the best things about a long weekend or day trip to Licking County. "
The award, received on December 6, celebrated the extensive community partnerships and hundreds of volunteers who make the waterway clean ups possible.
After receiving the award, Denise Natoli Brooks, with Licking Soil & Water Conservation District, emphasized River Round Up is more than a one-day waterway clean up. "It's a year-round initiative to keep our beautiful rivers and streams clean."
Currently, students are invited to create a River Round Up poster that reflects water pollution awareness and encourages participation in the Saturday, September 9, 2017 clean up. Cash prizes are available through The Dawes Arboretum's Fairchild Challenge and the River Round Up Committee.
For more information about the Poster Contest and the Licking County River Round Up, visit /get-involved/licking-county-river-round-up.
For a summary of the 2016 River Round Up results, visit /news/2016/09/28/2016-licking-county-river-round-up-event-deemed-a-success.
###
For more information or to schedule an interview, contact Denise Natoli Brooks at Licking County Soil & Water Conservation District at 740-670-5330 or denisebrooks@lickingswcd.com.