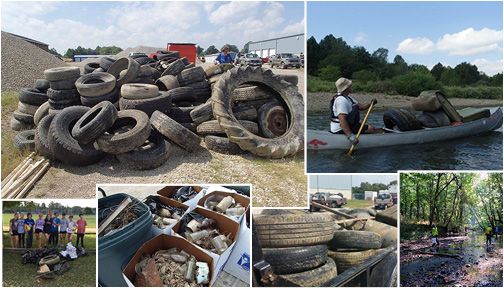 FOR IMMEDIATE RELEASE
Media Contact: obiggs@lickingcohealth.org, (740) 349-6488
09/27/2016 LICKING COUNTY, OHIO – On Saturday, September 10, 2016, over 320 volunteers participated in the 22nd annual Licking County River Round Up event to clean up trash, metal, tires and recyclables from waterways throughout the county. Nearly 26 miles of waterways were successfully cleaned with volunteers collecting a total of 4,790 pounds of trash and 4,220 pounds of recyclables.
Presenting sponsor, Shacklefords Disposal Service, hauled away a record-breaking amount of trash – 4,790 pounds. Licking County Recycling captured the number of recyclables collected – 400 pounds of general recyclables, 1,020 pounds of glass, and 2,800 pounds of scrap metal. Volunteers pulled over 400 tires from waterways, which is 123 more than what was collected in 2015.
The annual River Round Up is a community-based conservation effort that began in 1988. Each year, the number of volunteers and miles of waterways cleaned continues to climb. Nine River Round Up Day proclamations were signed this year, including submissions from the City of Newark, City of Heath, Village of Buckeye Lake, Village of Hanover, Village of Granville, Granville Township, Licking Township, Union Township and the Licking County Commissioners.
Save the date for the 2017 River Round Up event on Saturday, September 9, 2017! You may stay updated with this conservation tradition by finding the River Round Up Facebook page.