Thompson and Dobbelaer Re-Elected to Board
Congratulations to Ron Thompson and Seth Dobbelaer for being elected to the Licking County Soil & Water Conservation District Board of Supervisors to serve a second 3-year term beginning January 1, 2022. 
Ron served as the Board Chair for the last 2 years and chairs the Grants sub-committee.  Seth currently serves as the Fiscal Officer and chairs the Budget Committee.  
As unpaid Public Officials, the Board members are responsible for conducting business within the scope of the laws and administrative rules that govern Soil & Water.  Board members also help guide Soil & Water's mission with professionalism, efficiency, and effectiveness.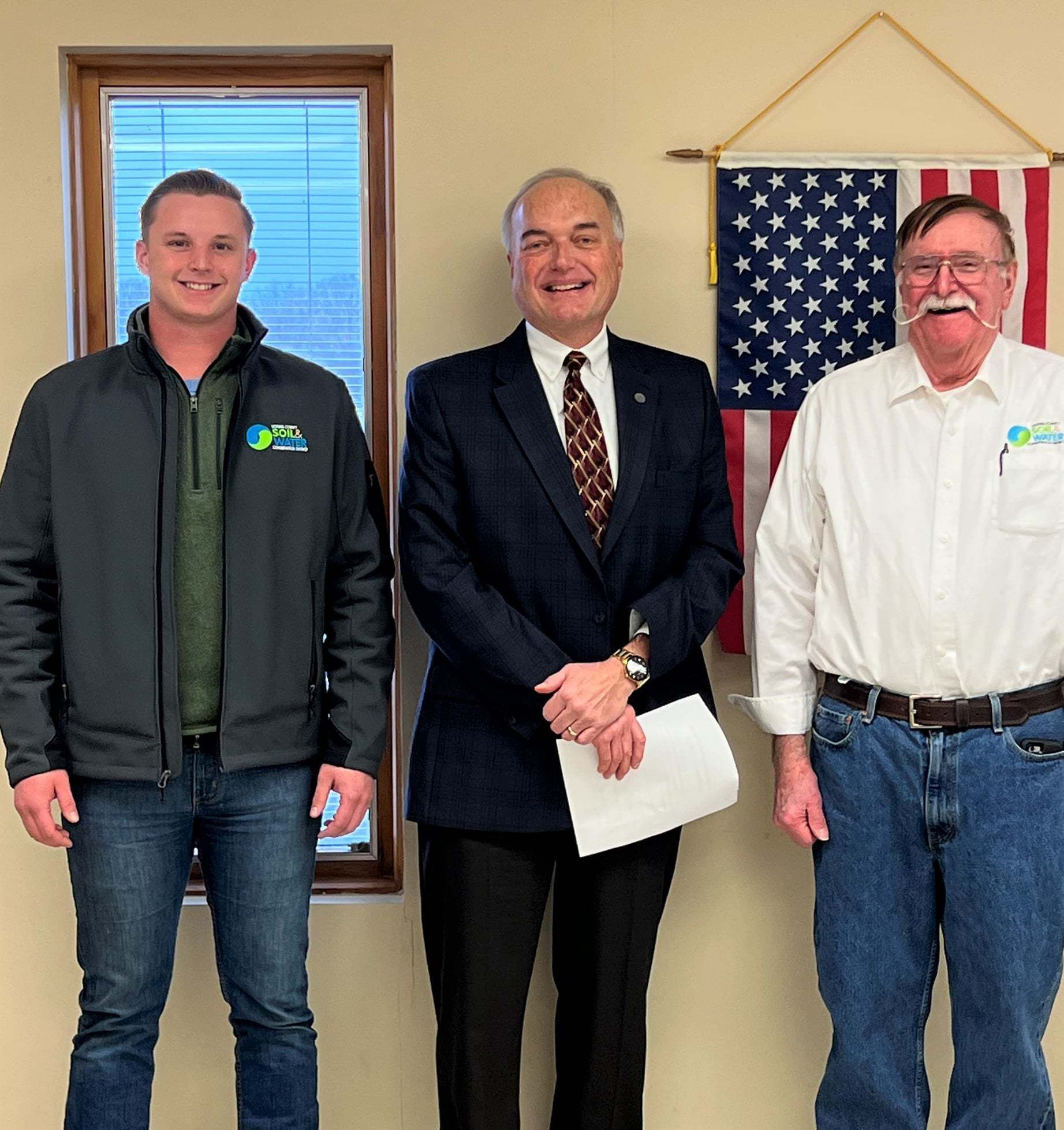 ---
2022 Board Members
Seth Dobbelaer - Chair

Seth Dobbelaer farms in Newark, Ohio. He has been a participant in the Licking County River Round Up and is passionate about organic farming. Mr. Dobbelaerr has been on the Board of Directors of the United Church of Granville and the Weathervane Playhouse. He has participated as a volunteer for many community efforts. If elected, Seth would like to address storm water drainage, fertilizer and pest control runoff, and unchecked mono cropping.

Mamie Hollenback - Vice Chair

Mamie Hollenback is a selfemployed chicken farmer from Washington Township. As 2010 Cooperator of the Year, the Hollenback's conservation projects on the farm include grass waterways, cover crops, drainage projects, as well as being enrolled in USDA conservation programs, CRP and CSP. Mamie sees opportunities to increase education to the agricultural community about manure management and how to secure funding for USDA programs like CRP.

Bill Goodman - Secretary/Treasurer

Bill Goodman is a beef & blackberry farmer in McKean Township. Retired from the Ohio Department of Agriculture, Bill thinks SWCD has historically done a good job for Licking County taxpayers. Challenges he would like to work on include maintaining technical and financial assistance, addressing the need for conservation practices in highly developed areas, and promoting cost-share programs to assist farmers in pollution abatement activities.

Ron Thompson - Fiscal Officer

Ron Thompson farms in Utica, Ohio. Mr. Thompson is a retired Agricultural Education teacher. He has been affiliated with many local community projects including as a 44-year member of the Hartford Fair Board. If elected, Ron would strive to upgrade educational programs for Licking County residents on the work of the Soil Conservation Service. He also would like to work to enhance the Muskingum and New Buckeye Lake watershed programs continuing to monitor fertilizer and nutrient run-off.

Kim Byce - Member

Kim Byce lives in Granville Township and is the Homestead Coordinator at Denison University. As a mom of three, she knows she is borrowing the earth from her children and theirs. Licking Soil & Water empowers her and other sustainability-minded residents of the county with knowledge and resources to ensure a viable, abundant future for all.
Committees
Through committees, work can be divided so that far more can be accomplished.  Committees typically meet on a quarterly or as-needed basis. Contact us at Information@LickingSWCD.com for additional information.    
Building/Equipment/Safety Committee - Provides recommendations for technology, equipment, rental program, fleet maintenance, building and barn maintenance, and safety policy.  
Budget Committee - This committee oversees the preparation of the annual budget, managing the organization's investments, setting compensation packages for staff, and oversees the Annual Giving Campaign.
Program Committee - While staff carries out the day-to-day activities that result in the development and implementation of the organization's programs, the Program Committee is charged with long-range planning and general oversight. Assists with developing and monitoring the Annual Plan of Work and Strategic Plan; volunteers for programs; represents the Soil & Water District at community events.
Policy/Personnel Committee- Reviews & recommends updates to the employee personnel policy ensuring compliance with County, State, and Federal law. Recommends updates to job descriptions and makes suggestions for the staff evaluation process.
---
Associate Board Members
Associate Board members are concerned citizens who officially volunteer their time to assist the Board and District.  Associate Board Members serve on board committees, help plan, promote and implement district programs, activities, field days, etc., represent the district at various meetings and events, and present district programs to individuals, groups, and organizations.  Contact us to learn more at Information@LickingSWCD.com.  
Jeff Bates

Jeff Bates is a Professor and Program Coordinator of the Environmental Science, Safety & Health Department at Columbus State Community College. He is a resident of Johnstown. He holds a Ph.D. Geological Science from The Ohio State University, an M.S. in Geology from Bowling Green State University, and a B.A. in Geology from the State University of New York at Buffalo. His areas of interest include water quality, soil management and agriculture.

Jeffrey Baker

Jeffrey Baker is a resident of Newark and is Science Teacher at Alpha School, a program to rehabilitate students involved with Perry County Juvenile Court. He holds a BA in Biology from Denison University, a BS in Marketing from Liberty University, an MA in Business Management from Regent University, and an MAT in Biology from Miami University. Jeff served on the Board of Supervisors for three years (2015 - 2017). He would like to see increased community awareness about water pollution issues and increased public support of Licking Soil & Water.