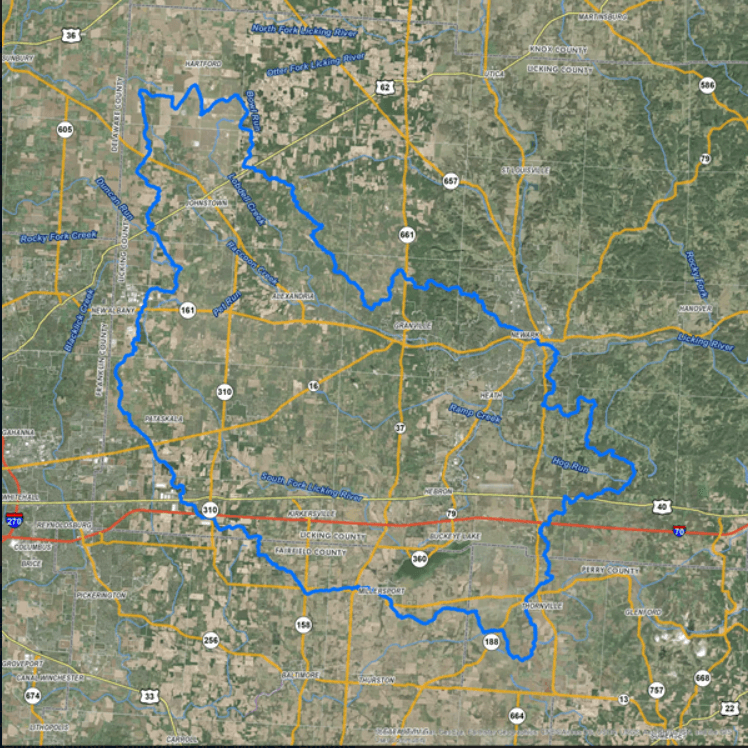 The South Licking Watershed Conservancy District (SLWCD) invites property owners and other interested parties within the South Fork Licking River watershed to learn about the current efforts to complete a Flood Damage Reduction Planning Study.
This study will evaluate and identify measures for channel protection and maintenance, and specific measures for flood damage reduction to protect homes, businesses and public infrastructure, including roadways. The study area is the portion of the South Fork Licking River watershed within District boundaries, which includes land within Licking, Fairfield, and Perry Counties outlined in blue on map below. 
The planning study and findings will serve as the basis for updating the Official Plan for the SLWCD, which is essential to the District being able to implement improvements throughout the area.  The stakeholders meetings are being held in partnership with Licking, Fairfield and Perry County Soil & Water Conservation Districts.  
Landowners are encouraged to provide input about what is happening on your properties and in your communities. How can you get involved?
• Join us at one of the two informational meetings (RSVP here)
                     Thurs. May 19, 2022 • 2:30 PM • In Person only
                            Alexandria Public Library, 10 Maple Dr, Alexandria
                   Tues. May 24, 2022 • 6:00 PM • Hybrid meeting
                      In Person: Hebron Admin. Building, 934 W Main St, Hebron
                  Join via Zoom: Email BritneyStuller@LickingSWCD.com for virtual/call in information.
• Share your concerns via landowner information form at www.SLWCD.org.  
• Call 740-670-5330 to request a landowner information form be sent to you.

The South Licking Watershed Conservancy District is a political subdivision under state of Ohio law.  Conservancy districts form at the initiative of local landowners or communities for various purposes including, solving water management problems, usually flooding and conserving and developing water supplies.