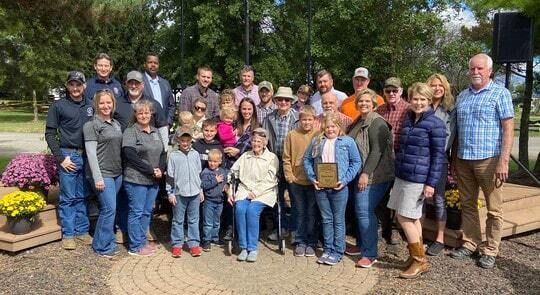 REYNOLDSBURG, Ohio — The Ohio Department of Agriculture recognized five families as winners of the 2022 Conservation Farm Family Awards at the Farm Science Review in London on Sept. 22.
The five families honored were: Settlage Farm, Auglaize County; Baltes Farm, Mahoning County; Felumlee family, Claylick Run Farm, Licking County; Branstrator Farm, Warren County; and Brown Family Farm, Highland County.
"We are proud to join with our conservation partners to honor these five special families who have made conservation the foundation of their operations," said Ohio Department of Agriculture Director Dorothy Pelanda. "Although many farmers are conservation-minded, these families have blazed a conservation path to which others may aspire. Their actions are not only supporting the state's strong agriculture industry, they are also helping to produce more in a way that preserves the integrity of their land for future generations."
"More than ever, farmers' planning efforts and decision-making play a large role in protecting Ohio's natural resources for the future," said John Wilson, NRCS State Conservationist. "These families serve as examples of conservation stewardship and sustainable agriculture, and we applaud their actions."
Since 1984, the Conservation Farm Family Awards program has recognized Ohio farm families for their exemplary efforts conserving soil, water, woodland, wildlife and other natural resources on the land they farm. Conservation farm families also host a variety of educational programs, opening their farms to schools, scout groups, farm organizations and others.
The families each receive $400 from the Ohio Farm Bureau Federation, are featured in the September issue of Ohio Farmer magazine. Ohio Farmer magazine has sponsored the Ohio Conservation Farm Family Awards since the program's inception. Nominations are sought annually between January and May, and Ohio farming families are encouraged to apply. For more information or to apply, individuals can contact their local Soil and Water Conservation District (SWCD).